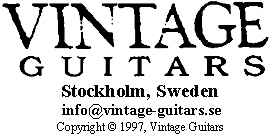 This page is part of our Bjärton information pages.
The España line of guitars was made by Bjärton for Buegeleisen &amp
Jacobson, Inc. in New York, N.Y. to be distributed in North America.
In ca 1967 the production of España guitars was taken over by Landola
in Finland and several more models were added.
España nylon-string guitars
España steel-string guitars
Prototypes &amp other non-cataloged models
Here are some guitars not to be found in any known catalogs.
If you have any information on them, or if you have a mystery España by Bjärton, please let us know.
34969 (1962)
(It has the fingerboard markers and rosette of a Bjärton La Rita
but 4-ply body binding and maple back/sides)