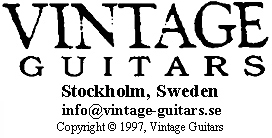 This page is part of our Levin information pages.
This instrument is shown here for educational purposes only.
It is not being offered for sale on this site.
We have a separate page with instruments for sale.
At first glance this guitar resembles a Goya F-25, but upon closer examination it has a top with X-bracing.
Furthermore, the X and the bridge plate is located as to be used with a 14-fret neck. It also has a bound
fingerboard. Although both its headstock logo and label has been removed, it does have a Levin serial
number stamped into the top edge of the headstock. It did have some problems but was skillfully brought
back to life by the competent hands of Magnus Hultin. Check out the restauration process below.

Photos by courtesy of Magnus Hultin.