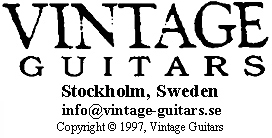 This page is part of our Levin information pages.
This instrument is shown here for educational purposes only.
It is not being offered for sale on this site.
We have a separate page with instruments for sale.
1966-1967 Levin Model 335
Photos by courtesy of www.vintage-guitars.se
Thanks to Hellstone Musik for loan of guitar.