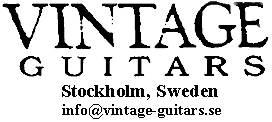 This page is part of our Bjärton information.
The España line of guitars was made by Bjärton for
Buegeleisen & Jacobson, Inc. in New York, N.Y. to
be distributed in North America.
In ca 1967 the production of España guitars was
taken over by Landola in Finland and several more
models were added.
España nylon-string guitars
España steel-string guitars