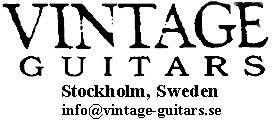 This page is part of our Levin information.
This image was
used as the 1961
Goya G-17 catalog
photo, but is more
likely a photo of a
ca 1953 El-Goya
Model 100 with an
added Goya logo.



Specifications:
Non-cutaway.
Body width: 380 mm.
Body length: 480 mm.
Body depth: 98 mm.
Fingerboard width: 50 mm.
Scale length: 650 mm.
Spruce top with undetermined bracing.
Mahogany back & sides.
5-ply bound top.
Single-bound back.
Mahogany neck with non-adjustable T-shaped duraluminum truss rod.
No headstock logo.
Unbound rosewood fingerboard with side block inlay.
Rosewood stairstep bridge.
Nickel plated strip tuners with white plastic buttons.
Natural finish.


Introduced: ca 1953


Earliest known example: 300314 (1953)
Latest known example: 300314 (1953)


ca 1954:
Replaced by Goya G-15.