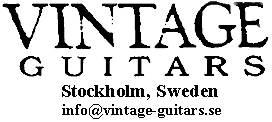 This page is part of our Bjärton information.
Hagström, who had the exclusive rights to export
Bjärton made instruments ordered guitars under
the Hagström name to sell through their network
of distributors.
Here are some guitars not to be found in any of
the known catalogs. If you have any information
on them, or if you have a mystery Hagström by
Bjärton, please let us know.
HC-22
(Entry in the shipping ledgers)
HC-30 De Luxe
(Entry in the shipping ledgers)
HC-100
(Entry in the shipping ledgers)