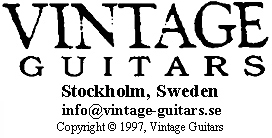 This page is part of our Levin information pages.
In 1952 initial contacts were being made between the Hershman Musical Instrument Co. of New York
and Levin regarding marketing Levin made instruments under a different brand name in the U.S.A.
Instead of using already existing Levin models, it appears that Levin designed completely new models
for Hershman, and only some of these models would later appear in Levin catalogs as Levin versions,
often with some minor changed details.
Before settling on the Goya name in 1954, a line of instruments named El-Goya were made.
Goya nylon-string guitars
Goya steel-string guitars